Cheap clomid tablets uk, Can i buy clomid online uk
Background:
The current main process to leverage skilled volunteers is a pull-type process. In this model an organization communicates a need and shares it, e.g. through Volunteer Match or United Way via Board Bank.
Many volunteers are unclear on how to serve to their potential using their talents.  Some want to demonstrate a "resume-building volunteer experience".
Our Plan:  Create a push-based process to enable individuals to make an offer on how they want to use their talents in Northern Kentucky.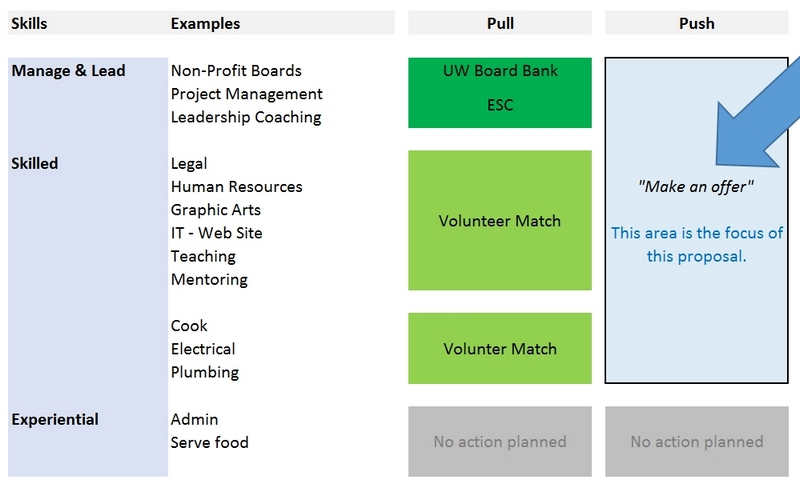 Proposed Process:
Help individuals understand the push/pull options and their goals.
The potential volunteer submits a proposal using the template (see separate document, available buy cheap clomid uk).
A sponsor is assigned. Initially this is Tony Aloise but others will be sponsors as the program grows.
The sponsor makes a few direct connections (with Friends of the Life Solutions Network).
If after two weeks, nothing is defined then communicate broadly to the buy clomid online with mastercard(via a SNA alert, eventually, we need to create a web page to post the offers).
Maintain bi-weekly communication with the potential volunteer until an assignment is agreed-upon.
What skills? There can be hundreds of skills.  The idea is to leverage special skills acquired through education or long-term work experience.  The above model provides a framework.  Here is an example of a "proposal" if you are an HR Leader:
Design a process for ongoing hiring of staff (or volunteers).
Evaluate and improve or implement a personal development process.
Provide training to staff on how to screen and interview volunteers.
We will work with you to develop your proposal.
Next Steps:
Begin some limited pilots to further learn and define the process and the need.  buy clomid online ukif you want to participate in this pilot.
Further engage United Way and others to avoid overlap with existing processes.